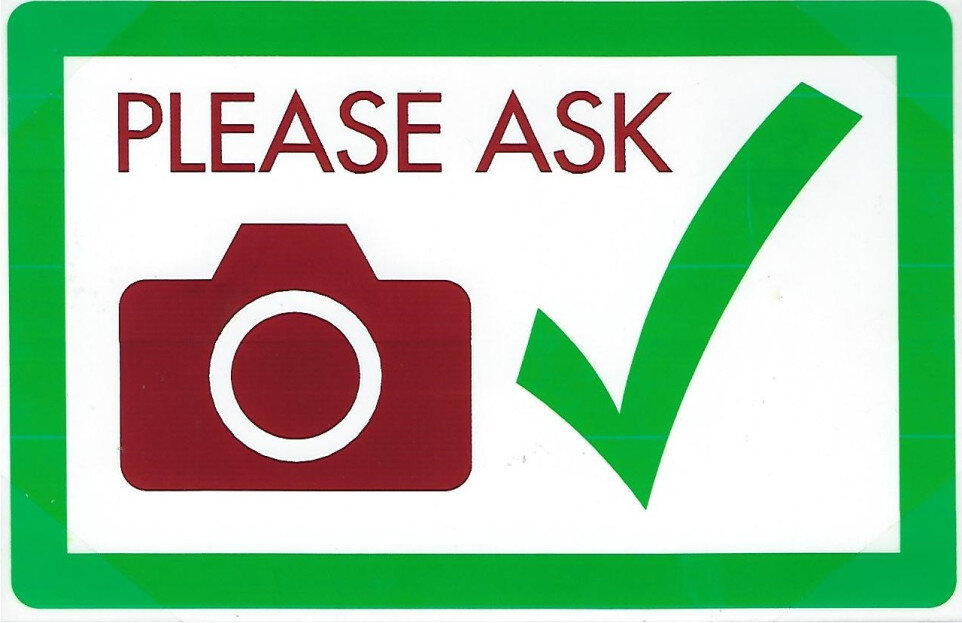 PHOTOGRAPHERS
The first time I ever saw a 'No Photography" sign was on an artists' booth at a large motorcycle show in Holland about 15 years ago - just before the true advent of the cell phone cameras – the 35mm camera still being the main device to take pictures.
I remember being quite astonished by this breath taking piece of chutzpah, as the work wasn't of the highest standard and the artist was strutting around like a peacock on his overly large booth.
I guess he knew something that I wasn't particularly concerned about and it was only later that he may have had his worked ripped off.

CELLPHONES.
With the advent of the modern cell phone, the manner in which photos can be taken has taken on a different meaning. Long gone are the days of 35mm cameras – from the Instamatic to the professional all-singing-and-dancing multi-function brick.
The modern cellphone has as much resolution than the aforementioned device and can be used surreptitiously.
Using my own Samsung Note 5, I have taken high-res photography of my own work from which I have been able to make equally high quality prints.
Prior to this rip-off epidemic, I freely allowed visitors to take photos of my work and offer to pose alongside my work– even helpfully alerting them that the direct flash would ruin their picture.

ACCESS GRANTED.
Many photographs don't feel any need to ask for permission. They think that is their God given right to point their cameras at anything and anyone they want – especially if there isn't a sign that photography is not allowed. I've seen ugly scenes at shows for that reason.
All professional cameras are powerful enough to take hi-res pictures even outside of a photographer's studio. A simple, raise, focus and click does the trick and the highest quality imaging is ready for immediate and potential rip-off.
Even if there clearly are, 'no photography' signs – usually in between the paintings, they're ignored with extreme prejudice.
In general, the majority of pic takers do have the common courtesy to ask permission first.

SIGNAGE.
I designed and made my own sign, not out rightly forbidding photography but inviting the person to ask first. (Illustrated above).
I've never said 'no', and the sign can start a conversation going.
Ultimately, it is the artist's final decision if he/she is happy to let someone take photos or not. The contention here is whether or not permission has been granted or not.
There are no barriers with the copying of images by the hands of the artists themselves. Much of my stuff – mostly atrocious - has been copied that way and which have appeared on the internet
In another blog, I'll be raising the question of on-line rip-offs.
Arthur Benjamins